Arizona & California: Day 16
Our second and last day in Yosemite National Park. The night before we stayed at a Quality Inn in Oakhurst just outside of the park. Really the only major town before entering the park on that side. Our first stop for the day was the sequoia trees in the area of the park called "Mariposa Grove". On Day 13 of our trip my dad and I were looking for sequoia trees but never made it through sequoia National Park to see them. So I was glad we were able to see some during our trip here. Here is an image of the grove map. We walked from the parking lot to the California Tunnel Tree and back.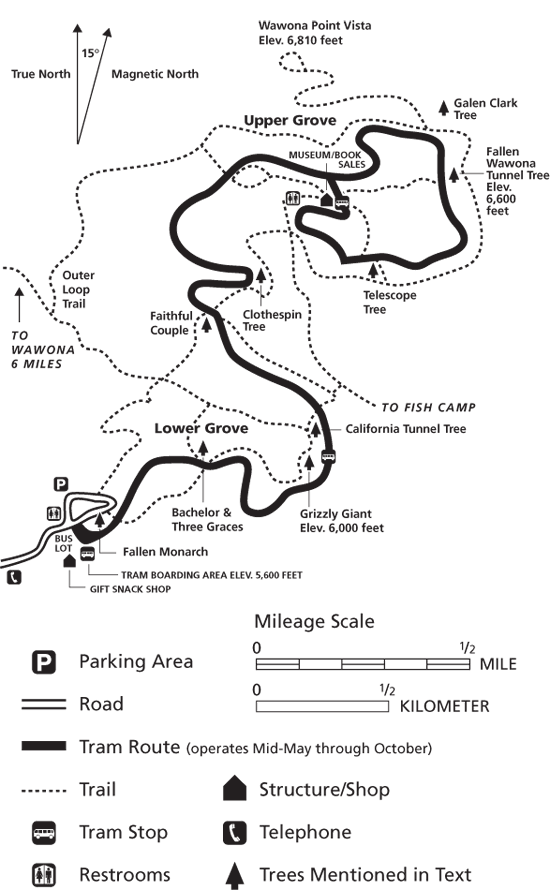 Some sections of the grove had been burned, several large trees, some sequoia, had fallen across the path and had been cut open to walk through.
Below, Bachelor & the Three Graces. My favorite trees.
This was the largest tree, Grizzly Giant. One of the limbs on the right is larger then any of the trees around it, a size close to 7ft around.
The tree you could walk through.
Above, a Sequoia pine cone. It is really hard to believe that such a large tree can grow from something the size of a golf ball. And these are tough little guys as well. After leaving the sequoia trees we headed to the upper road called Glaciar Point Road. The road had just opened for the season so there was still quite a bit of snow on the ground. Below, my mom, Heather and I could not resist playing in the snow so we made a mini snowman.
The view at our first stop just before Glacier Point, Half Dome on the left and Illilouette Falls, I believe, to the right. Also two panoramics that are much larger when zoomed in.
Above is the Ahwahnee Hotel where we ate our lunch yesterday and the one of the bridges that we walked over. Also Half Dome again in the photo above that. Below, me posing for a quick photo at a little overlook building at Glacier Point.
While leaving the park we ran across this unknown falls. There wasn't an official trail up to it but by walking along the rocks at the base you could get a safe distance away. The birds we spotted in the parking.
Our drive out of the park was along the river with steep, green grassy hillsides. We spotted the wild popeyes on distant hills. Later I was able to photograph some when we stopped for dinner in Mariposa.